Bailey's Irish Cream Cake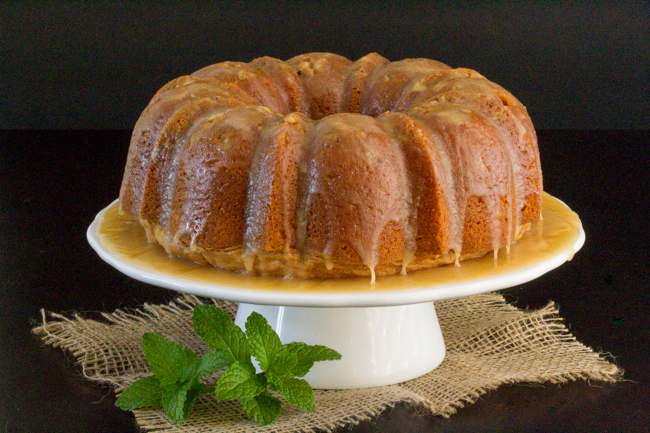 1 C. chopped pecans
1 box yellow cake mix
1 3.4 oz. pkg. vanilla instant pudding
4 eggs
¼ C. water*
½ C. vegetable oil
¾ C. Irish cream liqueur*
1 stick butter
¼ C. water
1 C. sugar
¼ C. Irish cream liqueur
For the cake:
Preheat oven to 325 degrees. Grease/flour bundt pan, then sprinkle nuts over bottom of pan.
In large bowl, combine cake mix, pudding, eggs, water, oil, Irish cream. Beat for 5 minutes on high, the pour batter over nuts in pan.
Bake in oven for about 60 minutes, until toothpick inserted in center comes out clean. Remove from oven, let cool for 10 minutes, then invert on serving platter. Poke holes over cake (I use a skewer). Spoon glaze over cake and let it absorb into cake.
While cake is cooling, make the glaze:
In saucepan, melt butter. Add water and sugar and bring to boil. Continue to boil for 5 minutes while stirring constantly. Remove from heat and stir in Irish cream. Be careful, it will steam when adding the Irish cream!
* To make this a rum cake, increase the water to ½ cup and replace the Irish cream with ½ cup of rum. For the glaze, replace the Irish cream with rum.

Also, instead of making the glaze, you could always just top the cake with a mixture of powdered sugar and Irish cream for a glaze. I usually use a ratio of 2:1 powdered sugar to liquid.
Recipe by
I'm Bored, Let's Go...
at http://www.imbored-letsgo.com/baileys-irish-cream-cake/