Brussels Sprouts & Broccoli with Maple Dijon Vinaigrette and Bacon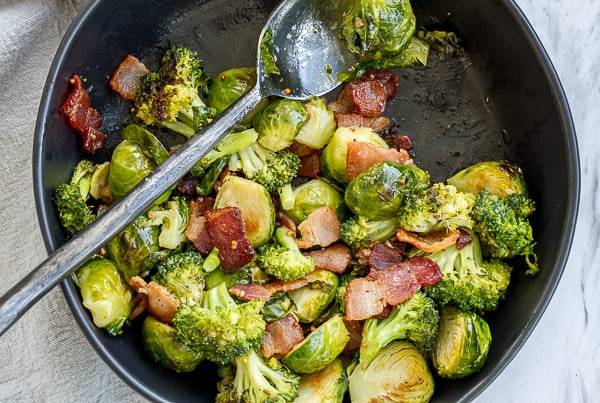 1 16 oz. bag brussels sprouts
1 14 oz. bag broccoli florets (or use a head of broccoli and cut into florets)
4 strips thick cut bacon, diced
2 Tbls. real maple syrup
2 Tbls. white balsamic vinegar
2 Tbls. dijon mustard
1 Tbls. whole grain mustard
6 Tbls. olive oil
1 clove garlic, minced
salt & pepper to taste
Preheat oven to 400 degrees.
Trim ends off brussels sprouts and slice sprouts in half. Combine sprouts and broccoli florets in bowl. Toss with olive oil to lightly coat vegetable (about 3 tablespoons). Transfer vegetables to large roasting pan (or rimmed cookie sheet) and spread out in single layer. Roast in oven for about 15 minutes until tender but not overcooked (toss vegetables half way through).
Meanwhile, cook diced bacon, drain fat and set aside.
Combine vinaigrette ingredients in small jar with lid, shake well to combine.
To serve, toss vegetables with some vinaigrette (you won't need it all, just use as much as you like) and diced bacon.
Recipe by
I'm Bored, Let's Go...
at http://www.imbored-letsgo.com/brussels-sprouts-broccoli-with-maple-dijon-vinaigrette/