Cajun Chicken and Rice Skillet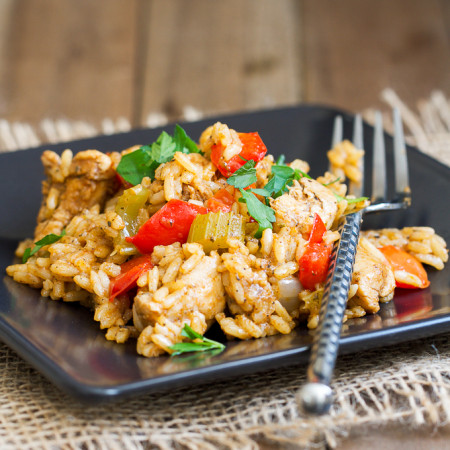 2 chicken breasts, cut into chunks
1 C. diced red bell pepper (about ½ lg. pepper)
1 C. diced onion (about ½ lg. onion)
1 C. sliced celery (about 3 sm. stalks)
2 Tbls. oil
2 Tbls. butter
1½ C. rice (I used Uncle Ben's converted rice)
3 C. chicken stock, heated
2 tsp cayenne pepper (use 1 if you want less heat)
1½ tsp. salt
1½ tsp. pepper
1¼ tsp. paprika
1 tsp. dry mustard
1 tsp. cumin
½ tsp. corriander
½ tsp. garlic powder
½ tsp. thyme
½ tsp. oregano
Garnish: chopped, fresh parsley
Combine spice mix ingredients and set aside.
In large saucepan, heat oil and butter or medium high heat. Add chicken and veggies and stir/saute a couple minutes, Add spice mixture and continue to cook a couple minutes more. If it looks too dry, add more butter or oil.
Add rice. Stir to combine, then add hot chicken stock.
Cover pan, reduce heat and simmer about 20 minutes, until rice is cooked and broth is absorbed.
Garnish with chopped parsley, if desired.
If you want more chicken/veggies than rice, increase the amount of chicken/veggies or use only 1 cup rice/2 cups stock.
Recipe by
I'm Bored, Let's Go...
at http://www.imbored-letsgo.com/cajun-chicken-and-rice-skillet/