Shaved Asparagus Salad with Lemon Vinaigrette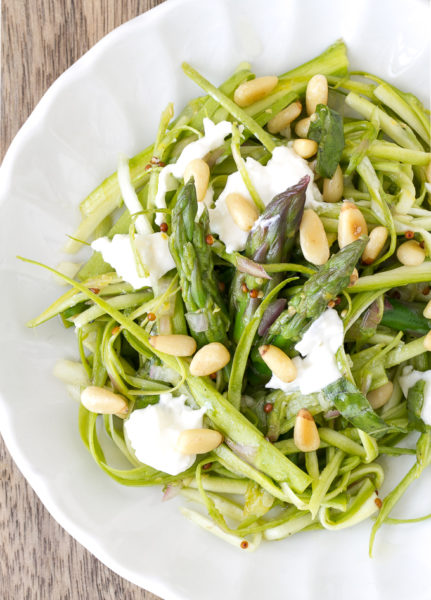 Recipe type:
Salads/Side Dish
1 bunch thick stalk asparagus spears
1 ball burrata cheese (could substitute fresh mozzarella, ricotta or even shaved parmesan)
¼ C. toasted pine nuts
handful of fresh basil, chopped (plus additional or garnish, if desired)
2 salmon fillets, grilled (or cooked your preferred way)*
1 lemon, zest and juice
1 garlic clove, minced
1 small shallot, minced
1 tsp. whole grain mustard
1-2 tsp. honey (to taste)
1 Tbls. champagne or white wine vinegar
2 Tbls. olive oil
½ tsp. salt
Fresh ground black pepper
Make the Vinaigrette: Combine vinaigrette ingredients in small bowl and whisk well to combine, adjust seasoning to taste and set aside.
Make the Shaved Asparagus: Trim tough ends from asparagus spears. Cut off tips and set aside. With vegetable peeler, peel asparagus stalks. Save the tips for another use or blanch quickly and add to the salad.
Assemble Salad: Prior to serving, toss the shaved asparagus with the vinaigrette, and basil. Divide on two plates. Top each plate with torn pieces of burrata (or other cheese), pine nuts, grilled salmon fillets (if using) and additional basil as garnish.
*I like salmon but you could use any seafood you prefer. Or leave it off and just enjoy this dish as a side salad.

Also, I found it easier to shave the asparagus by setting the spear on top of my rolling pin and holding it still (a flat bottomed item would be better). The height allows your fingers and vegetable peeler more room. I didn't have much luck shaving them like I would a carrot, but you might.
Recipe by
I'm Bored, Let's Go...
at http://www.imbored-letsgo.com/shaved-asparagus-salad-with-lemon-vinaigrette/