Low Carb Crab Cakes with Mustard Sauce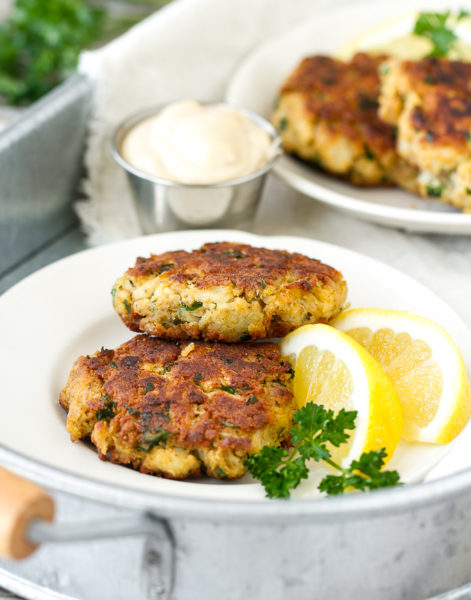 1 cup crab meat, lump is best (I used crab from a can that I had)
1 egg, beaten
2 tsp dijon mustard
1 Tbsp fresh lemon juice
2 tsp Old Bay seasoning
2 Tbsp parsley, chopped
1.5 Tbsp coconut flour
2 Tbsp coconut oil
3½ tsp. dry mustard
1 C. mayonnaise
2 tsp. Worcestershire sauce
1 tsp. A-1 steak sauce
2 Tbls. half & half
salt & pepper to taste
In bowl, blend mayonnaise and mustard together for 1 minute (I used a hand held blender). Add remaining sauce ingredients, blend to combine. Set sauce aside in refrigerator for about an hour to let the flavors meld together.
Add crab to small bowl (make sure there aren't any shells or cartilage in the crab meat).
In a separate bowl, whisk together the egg, lemon juice, and dijon mustard, until smooth.
In another bowl, mix together the old bay, parsley, and coconut flour.
Fold the egg mixture into the crab. Add dry ingredients to the crab mixture and mix gently. Try not to break up/shred the pieces of crab too much. Form 4-6 crab cakes and set aside.
Heat the coconut oil over medium heat in a nonstick pan. Add crab cakes and cook for about 2-3 minutes per side, until golden brown. Remove from the pan and drain on paper towels.
Sprinkle with kosher salt, squeeze some fresh lemon juice over them and serve with Mustard Sauce.
I found the crab cake recipe from
I Breathe I'm Hungry
and the mustard sauce from several sources online.
Recipe by
I'm Bored, Let's Go...
at http://www.imbored-letsgo.com/low-carb-crab-cakes-with-mustard-sauce/