Peach Prosciutto Ricotta Arugula Pizza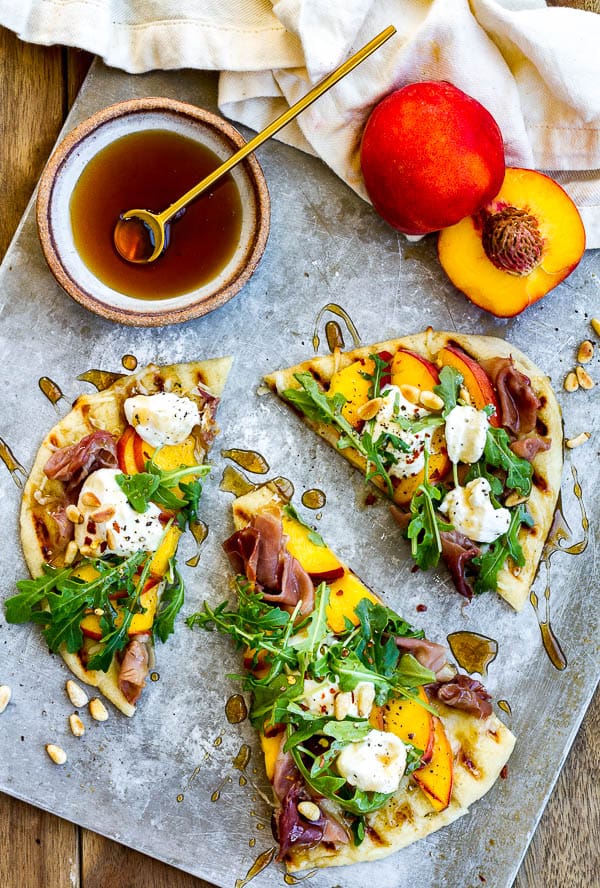 Naan bread - one slice per person
Prosciutto - a few slices per pizza
Peaches - ½ - 1 peach per pizza, sliced
Ricotta* - a few Tbls. per pizza
Arugula - handful per pizza
Pine nuts - 1-2 Tbls. per pizza
Honey - to drizzle on top
Olive oil to lightly brush naan before grilling
black pepper or red pepper flakes (optional)
Brush each piece of naan with a little olive oil and grill each side to crisp it up and make nice grill marks.
Top each piece of naan with some prosciutto, sliced peaches, a few dollops of ricotta.
Heat each pizza in the oven for a few minutes to warm it up and melt the ricotta a little bit.
Top with a handful of arugula, sprinkle some toasted pine nuts on top and drizzle some honey over the pizza. Top with a few grinds of fresh black pepper or red pepper flakes, if desired.
* Use a fresh, good quality creamy ricotta, not low fat
Recipe by
I'm Bored, Let's Go...
at http://www.imbored-letsgo.com/peach-prosciutto-ricotta-arugula-pizza/