Roasted Vegetable Manicotti with Tomato Basil Sauce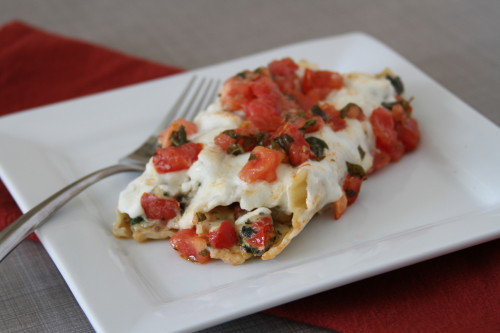 1 C. Roasted Vegetables
1 C. shredded mozzarella cheese
½ C. ricotta cheese
6 chicken meatballs or 1 cooked Italian sausage*
½ frozen, defrosted, chopped spinach (drained)
7 manicotti shells
2 Tbls. butter
2 Tbls. flour
1 C. half & half
Pinch of salt & white pepper
1-2 C. Tomato Basil Sauce or your favorite tomato pasta sauce
Fresh shredded parmesan cheese
Preheat oven to 350 degrees
Cook manicotti according to package directions, drain and set aside.
Dice the roasted vegetables into small pieces and dump into bowl. Dice up chicken meatballs or Italian sausage into small pieces and add to bowl with vegetables. Add mozzarella cheese, ricotta cheese, and spinach. Mix well to combine. Set aside.
Stuff the shells with the vegetable mixture
In small saucepan, melt butter. Whisk in flour cook a bit to combine. Slowly whisk in half and half and continue whisking until thickened. Season with salt & pepper to taste.
Put some of the Tomato Basil sauce on bottom of baking dish. Add stuffed manicotti side by side. Top with white sauce, then some Tomato Basil sauce. Sprinkle some parmesan cheese on top and bake, covered, about 30 minutes, until heated through and bubbly. Remove cover last 10 minutes of cooking.
* I used some chicken meatballs that I already had cooked in my refrigerator. If you want to use Italian sausage, I'd recommend you take it out of the casing and cook it in a skillet, drain, then add to the vegetable mixture.
Recipe by
I'm Bored, Let's Go...
at http://www.imbored-letsgo.com/roasted-vegetable-manicotti-with-tomato-basil-sauce/